Vaccination Consultations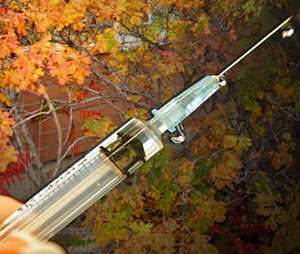 Do you have questions about vaccines? It can be difficult to research the pros and cons of vaccinating your children as many resources take an "all or nothing" approach and do not discuss the individual needs of your child. Delaying of vaccinations in healthy, low-risk children results in less immunizations and less of an impact on the natural development of the immune system. However, it is important to evaluate the health and risk factors of the child and relatives in the home when considering altering the vaccination schedule and deciding whether or not to vaccinate. To help you learn the facts and come up with a vaccination plan, detailed vaccination consultations throughout your child's first few years are recommended and offered at Vitalia.
Older siblings, parents' professions, relatives living in the home and breastfeeding are some of the aspects along with the child's health that are discussed. Supportive vitamins, minerals and supplements are recommended surrounding immunizations based on individual requirements during consultations. The initial hour-long consultation will evaluate your child's health history and susceptibility to disease. Facts and recommendations will be made and parents will leave with information which enables them to make informed decisions.
Vaccination Consultations Offered:
Natural Vaccine
Immunizations
childhood immunization
side effects vaccination
Autism vaccination
Aluminum vaccines
Mercury vaccines
Call us today at 604-566-9355 for more information!