Intravenous Glutathione Therapy in Vancouver
Glutathione is an essential antioxidant produced naturally by the liver – but can also be found in some meats, fruits and vegetables. As the human body is constantly fighting off a plethora of toxins and chemicals through exposure to environment, poor diets and poor lifestyle choices, glutathione (GHS) is needed to help neutralize and counteract the effects of these harmful toxins. Once GHS levels are depleted, the body may become more susceptible to illness.
How It Works
Glutathione is crucial for many processes in the human body, including immune system maintenance, tissue building and repair, and making proteins and chemicals needed in the body. It is considered a 'potent antioxidant' and helps to eliminate dangerous free radicals. Glutathione binds to toxins in the body through a process referred to as "conjugation" to allow these toxins to be safely expelled. IV glutathione delivers the nutrient directly to the bloodstream and into the cells.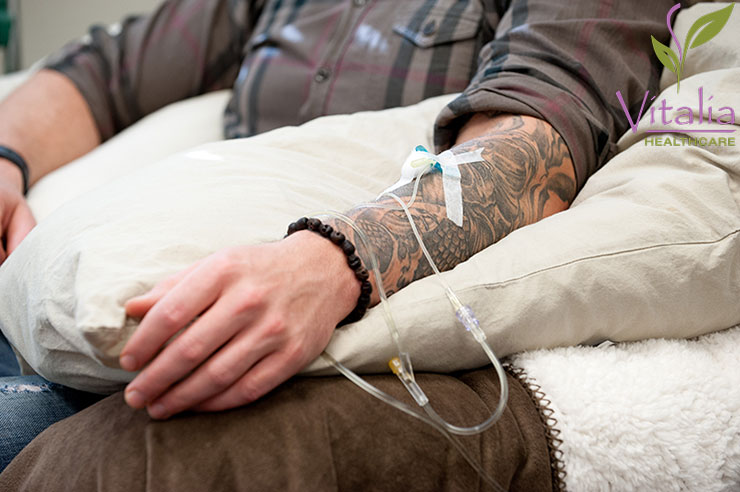 Why It's Needed
As we grow older, the natural levels of glutathione in the body become lower and lower at the rate of about 10 percent every ten years. A deficiency in this crucial antioxidant may result in a number of health conditions.
IV glutathione delivers glutathione directly to the body and may increase your glutathione levels for a healthier life and better wellbeing.
To learn more about our intravenous glutathione treatment offered at our Vancouver Vitalia Healthcare facility, call us today at 1-604-566-WELL (9355) to speak with a member of our friendly and knowledgeable staff.
Also Read These Related Pages
Intravenous Vitamin and Mineral Therapy
Glutathione and its Role in Protecting Your Cells from Environmental Toxins
Natural Treatments for Diabetes: Intravenous Glutathione