Intravenous Glutathione Therapy in Vancouver
Glutathione is an essential antioxidant produced naturally by the liver from 3 amino acids; Glutamate, Glycine and Cysteine. It is known as the master antioxidant.
How It Works
Glutathione is crucial for many processes in the human body, including immune system maintenance, tissue building and repair, and making proteins and chemicals needed in the body. It is considered a 'potent antioxidant' and helps to eliminate dangerous free radicals. Glutathione binds to toxins in the body through a process referred to as "conjugation" to allow these toxins to be safely expelled. IV glutathione delivers the nutrient directly to the bloodstream.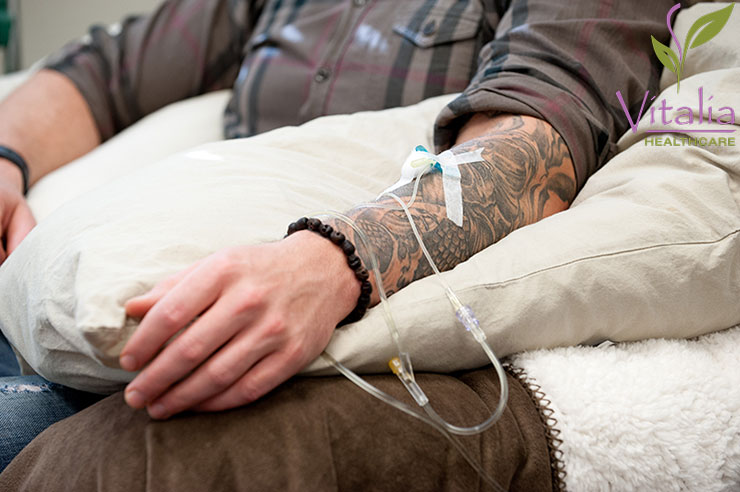 To learn more about our intravenous glutathione treatment offered at our Vancouver Vitalia Healthcare facility, call us today at 1-604-566-WELL (9355) to speak with a member of our friendly and knowledgeable staff.
Antioxidants and their role in Healthy Skin Aging
Antioxidants assist with the elimination of free radicals in the body that damage the skin at a cellular level leading to aging (1). Free radicals affect the DNA of your skin leading to premature aging by reducing collagen and elasticity (1). Nutrients that the body use to counteract oxidative stress are called antioxidants. Oxidative stress goes well beyond our skin's health; it goes right down to alteration of DNA and triggering illness (2).
Nutritional status with respect to both macronutrients and micronutrients is important for skin health and appearance (5). Here are three commonly used antioxidants used in healthy aging skin support.
1. Glutathione

Glutathione, the "master antioxidant" is the strongest antioxidant naturally made in the human body. It eliminates harmful free radicals as part of a natural balance between our metabolism and antioxidants. Glutathione is called a tri-peptide, composed of three amino acids, glutamate, cysteine, and glycine. Therefore, proteins are important for supporting glutathione levels along with sulfur rich foods such as cruciferous vegetables.

Chronic illness, stress (emotional and physical), aging and pollutants all decrease our glutathione supply. Glutathione can be supplemented orally through a liposomal formulation or administered through glutathione IV therapy.

So how does this relate to your skin? In one RCT, visio-scan measurements for wrinkles of sun- protected left arm of subjects in the glutathione group were significantly lower than those of the placebo group (3), especially in ages greater than 40. Glutathione supplementation tended to increase skin elasticity, especially the elasticity of sun-exposed skin, although statistically significant differences could not be demonstrated (3).

2. Vitamin C

Vitamin C (ascorbic acid) is an essential water-soluble micronutrient used as an antioxidant. It is known historically when sailors at sea for long periods of time would develop scurvy due to this essential vitamin deficiency. One of the first known signs of scurvy, is changes to the skin. Vitamin C is essential for the synthesis of collagen. Skin contains high concentrations of vitamin C, which supports important functions such as stimulating collagen synthesis and assisting in antioxidant protection against UV-induced photo-damage (4). Vitamin C derivatives have been shown to decrease melanin synthesis and therefore are used to treat skin hyperpigmentation in conditions such as melasma or age spots (6). Food sources of Vitamin C include citrus fruits, cantaloupe, broccoli, brussel sprouts, and cauliflower. Vitamin C may also be administered intravenously.

3. Vitamin E

Vitamin E is a major naturally occurring lipid-soluble antioxidant, that has 8 different formulations known at tocopherols. Alpha-tocopherols is the only form of Vitamin E that is officially recognized as meeting human requirements. The intake of natural vitamin E products helps against collagen cross linking and lipid peroxidation, which are both linked to aging of the skin (8). In one RCT with mice, the mice with Vitamin E had significantly less acute and chronic skin UV damage and photo- aging (7). Vitamin C and vitamin E work synergistically, with Vitamin C allowing the body to recycle the Vitamin E (6,8). Foods with high levels of Vitamin E include, nuts, seeds, spinach, avocado, tomatoes, and olive oil. The best source of Vitamin E is food source or oral supplementation.
Referances
 1. Poljšak B, Dahmane R. Free radicals and extrinsic skin aging. Dermatol Res Pract. 2012;2012:135206. doi:10.1155/2012/135206
 2. Lobo V, Patil A, Phatak A, Chandra N. Free radicals, antioxidants and functional foods: Impact on human health. Pharmacogn Rev. 2010;4(8):118–126. doi:10.4103/0973-7847.70902
 3. Weschawalit S, Thongthip S, Phutrakool P, Asawanonda P. Glutathione and its antiaging and antimelanogenic effects. Clin Cosmet Investig Dermatol. 2017;10:147–153. Published 2017 Apr 27. doi:10.2147/CCID.S128339
 4. Pullar JM, Carr AC, Vissers MCM. The Roles of Vitamin C in Skin Health. Nutrients. 2017;9(8):866. Published 2017 Aug 12. doi:10.3390/nu9080866
 5. Role of micronutrients in skin health and function. Park K Biomol Ther (Seoul). 2015 May; 23(3):207-17.
 6. Inhibitory effect of magnesium L-ascorbyl-2-phosphate (VC-PMG) on melanogenesis in vitro and in vivo. Kameyama K, Sakai C, Kondoh S, Yonemoto K, Nishiyama S, Tagawa M, Murata T, Ohnuma T, Quigley J, Dorsky A, Bucks D, Blanock K J Am Acad Dermatol. 1996 Jan; 34(1):29-33.
 7. Karen E. Burke, Jonathan Clive, Gerald F. Combs, Joel Commisso, Carl L. Keen & Robert M. Nakamura (2000) Effects of Topical and Oral Vitamin E on Pigmentation and Skin Cancer Induced by Ultraviolet Irradiation in Skh:2 Hairless Mice, Nutrition and Cancer, 38:1, 87- 97, DOI: 10.1207/S15327914NC381_13
 8. Schagen SK, Zampeli VA, Makrantonaki E, Zouboulis CC. Discovering the link between nutrition and skin aging. Dermatoendocrinol. 2012;4(3):298–307. doi:10.4161/derm.22876
Also Read These Related Pages
Intravenous Vitamin and Mineral Therapy
Glutathione and its Role in Protecting Your Cells from Environmental Toxins
Natural Treatments for Diabetes: Intravenous Glutathione