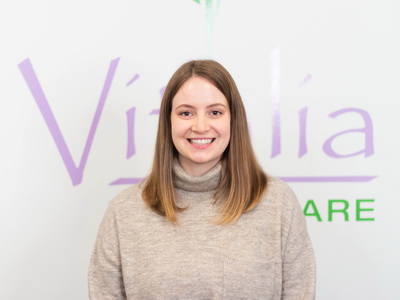 Dr. Elizabeth Miller
Naturopathic Physician
I am excited to be part of the Vitalia Health Care team! I value kind, compassionate, patient-centered care and provide a general family practice focusing on the following areas:
🍂Digestive health (IBS, GERD, IBD, SIBO)
🍂Women's health (PMS, menstrual regulation, PCOS, Menopause)
🍂Healthy Weight Management
🍂Thyroid Health
🍂Fatigue, Stress, and Anxiety
🍂Skin conditions (Acne, Rosacea, Eczema, Psoriasis)
🍂Autoimmune and autoinflammatory conditions
My education includes a Bachelor of Science in Nursing at the University of Ottawa and a four-year naturopathic medical program at the Canadian College of Naturopathic Medicine and Boucher Institute of Naturopathic Medicine. During my nursing education and work, I frequently encountered patients with varying definitions of wellness, yet were assessed and treated under a single health care model. This observation led me to pursue a practice in Naturopathic Medicine, with an emphasis on considering all aspects of an individual's health story.
I am passionate about natural medicine and I am devoted to helping clients feel their best self. Together, we will develop an individualized care plan after a thorough health and lifestyle intake, physical exam and relevant laboratory testing.
I hold certification in the following modalities:
🍂License to Prescribe (BC prescriptive authority)
🍂IV Vitamin infusion therapy
🍂Acupuncture
Professional Affiliations:
🍂College of Naturopathic Physicians of British Columbia
🍂Canadian Association of Naturopathic Doctors
🍂British Columbia Naturopathic Association