Dr. Tasreen Alibhai, N.D.
Naturopathic Medical Director, Vitalia Healthcare Naturopathic Doctor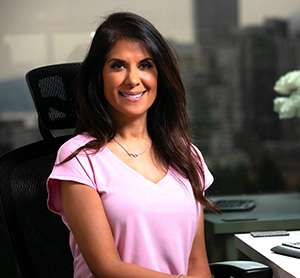 Dr. Tasreen Alibhai is the Naturopathic Medical Director of Vitalia Healthcare Naturopath in Vancouver, British Columbia. She earned her Bachelor of Science Degree at the University of British Columbia, and her Doctoral of Naturopathic Medicine at Seattle's Bastyr University. She completed her advanced Undersea and Hyperbaric Medical Training program at Hyperbarics International in Key Largo, Florida. She is a licensed naturopathic doctor, and an expert in hyperbaric oxygen therapy, chelation IV therapy, mesotherapy and environmental medicine.
Her practice includes the use of nutritional and lifestyle counseling, chelation IV therapy, botanical medicine, intravenous vitamin/mineral therapy and bio-identical hormone replacement therapy. She utilizes state of the art diagnostic and laboratory testing to effectively identify and treat the underlying causes of many conditions including hormone disorders, digestive complaints, skin disorders and conditions of the immune system. Dr Alibhai also facilitates medically supervised clinical detoxification programs at Vitalia Health Care.
Dr. Alibhai is a leading expert in the growing field of corporate wellness and has played a key role in implementing employee health programs at Telus, the leading cellular and residential phone company in BC, Ontario, Alberta, and Quebec.
In addition, Dr. Alibhai continues to research, publish and lecture worldwide on the medical uses of hyperbaric oxygen for the treatment of neurological conditions and autism. She has appeared as a guest on numerous radio and television shows including The Beat 94.5, Buyologic TV and Anna & Kristina's Grocery Bag.
Her reputation as a leader and world wide advocate in integrative medicine has brought patients from around the globe to Vitalia for the most effective and leading edge natural health care available in Canada.
Dr. Alibhai is an active member of the British Columbia Naturopathic Association (BCNA), College of Naturopathic Physicians of British Columbia (BCNA), Canadian Naturopathic Association (CAN), Undersea and Hyperbaric Medical Society (UHMS) and Naturopathic Academy of Therapeutic Injection (NATI).
She is currently a member of the Quality Assurance Committee and an adviser to the specialties task force committee of the College of Naturopathic Physicians of Vancouver BC